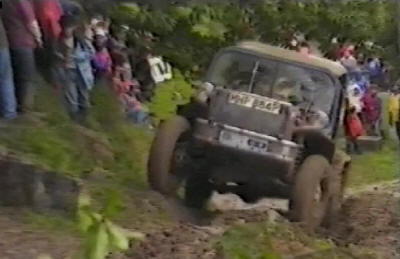 See also
Rallye des Cimes 1983 - The Brits

Rallye des Cimes 1983, The British Team.
Archive pictures showing the 1983 rally, the event won by Pat Willis and Roberto Aliperti, followed in second place by Alvin Smith and Pete Wilkins. Also included are pictures of Colin Cowley's Alpha Jeep and co pilot John Hilton. The event is followed by the car wash celebrations in the river at Pont Abense.
Camera by David Roulson, Editing by John Hilton.

Rallye des Cimes 1983 l'équipe britannique.
des images d'archives montrant le rallye 1983, épreuve remportée par Pat Willis et Roberto Aliperti, suivi en deuxième place par Alvin Smith et Pete Wilkins. Sont également inclus des images de Colin Cowley Alpha Jeep et co pilote John Hilton. L'événement est suivi par les célébrations de lavage de voiture dans la rivière à Pont Absence.
Caméra par David Roulson, Montage John Hilton

.